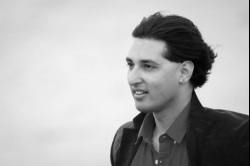 Justin was born in St. John's, Newfoundland and Labrador in April 1987. At the age of seven he decided that he wanted to work as an actor. His first role came at the age of 11, where he played Ten-Year-Old Tommy in
The Who's TOMMY
on stage at the Arts and Culture Centre in St. John's, and he spent the next several years performing in stage musicals, still hoping to get to the screen one day, and at the same time considering other positions in the industry such as directing, producing or make-up effects.
An avid fan of science fiction and fantasy, Justin was among the first volunteers for the inaugural
Sci-Fi on the Rock
science fiction and fantasy convention. A decade later and counting, Justin is still with the organization as a member of the volunteer board of directors. In 2011, Justin spearheaded a short film festival as part of the event, which quickly earned attention in local and international markets. The festival continues to grow and has received films locally as well as from other provinces, the United States, the United Kingdom, Spain and many other nations. This grew into
Granite Planet International Film Festival
in 2015, which was unfortunately a less successful venture, but was still an amazing opportunity. In recent years, Justin has joined the planning team for another science fiction and pop culture convention called
Avalon Expo
, where he serves as the entertainment coordinator and official Master of Ceremonies.
Justin enjoys writing (except biographies for himself...it makes him feel a little like an ass...), and has two short stories published in sci-fi anthologies;
Earthdeath: Chrysalis
in
More Sci-Fi on the Rock
(Engen Books) and
Fun, Games and Death
in
Fearsome Fables
(Ink'd Well Comics). He has also written a comedic short script called
Not My Job
, which is currently in pre-production and will be produced by Newfoundland-based production company
Pitcher Plant Productions
.
Although Justin has moved away from stage musicals (for a while, anyway), he continues to enjoy performing musically. He plays keyboard, alto saxophone (to a lesser degree) and is a singer. In 2012 he played keys and saxophone in progressive rock bang
Hammingwell
, and from 2012-2014 played keys and sang backup with
the Dukes of Doyle
, a motown/rock band comprised of Republic of Doyle crew and cast, featuring Krystin Pellerin and Lynda Boyd on vocals.
---